<!z--THIS BEGINS A SUB-TABLE OF NAV BUTTONS--> <!z--THIS BEGINS A SUB-TABLE OF NAV BUTTONS--> <!z--THIS BEGINS A SUB-TABLE OF NAV BUTTONS--> <!z--FIRST TABLE ROW IN THE NAV--> <!z--FIRST TABLE ROW IN THE NAV--> <!z--FIRST TABLE ROW IN THE NAV--> <!z--BEGINNING OF TABLE D--> <!z--BEGINNING OF TABLE D--> <!z--BEGINNING OF TABLE D--> <!z--BEGINNING of TEXT or PICTURES inside TABLE D--> <!z--BEGINNING of TEXT or PICTURES inside TABLE D--> <!z--BEGINNING of TEXT or PICTURES inside TABLE D--> <!z--DON'T PUT IN P FOR FIRST PARAGRAPH AND IT GOES FLUSH--> <!z--DON'T PUT IN P FOR FIRST PARAGRAPH AND IT GOES FLUSH--> <!z--DON'T PUT IN P FOR FIRST PARAGRAPH AND IT GOES FLUSH-->

THE POP CULTURE LOVER'S GUIDE TO NEW YORK CITY

by Bob Egan of PopSpotsNYC.com

with Maps by Jim Egan



---
THE WEBSITE WITH OVER 120 NEIGHBORHOOD MAPS SHOWING THE EXACT LOCATIONS OF 1000's OF FAMOUS POP CULTURE SPOTS ACROSS THE CITY - with addresses and cross-streets following
---
SAMPLE: "Movies set in Greenwich VIllage":
---
Coming in June 2018. . . you can buy the easy-to-carry book version:
---
POP CULTURE - NEW YORK CITY: THE ULTIMATE LOCATION FINDER (Applause Books/Hal Leonard)- with over 2,000 Locations Mapped Out )
---
---
To be available at Amazon.com, BarnesandNoble.com, Major Bookstores and Gift Stores.

---
Chapters. . .
1) 500 MOVIE and TV LOCATIONS (Maps)
• Includes:
• NYC film poster locations
• TV Sitcom Locations
• Cult TV Show Locations
• Where to See Live TV Shows

• 300 Best Loved Movies Filmed in NYC (List)


2) BROADWAY THEATERS & CONCERT HALLS (Maps)

• Includes:
• A list of Broadway Theaters by number of seats, with facts about each
• A list of NYC Concert Halls by number of seats


3) 10 LEGENDARY COMEDY CLUBS (Map)

• Ten Legendary Comedy Clubs: Their heydays and who they helped launch into Pop Culture fame


4) 200 NYC MUSIC VENUE LANDMARKS (Maps)
• Includes:
• Folk, Rock, Punk, Disco, and Hip-Hop Clubs and Concert Halls from the 1950's to the 1990's
• Famous Recording Studios and their Hits



5) OVER 125 NYC RECORD ALBUM COVER LOCATIONS (Maps)

• Includes:
• Folk, Rock, Punk, New Wave, Disco, Hip Hop, and Showtunes
• List of Used Vinyl Record and CD Stores (List)


6) HISTORIC JAZZ CLUBS of the 1920's-1960's (Maps)

• Includes:
• Clubs from 52ND STREET, HARLEM & GREENWICH VILLAGE
• Over 80 historic photos of many clubs and musicians


7) NYC CELEBRITY RESIDENCES (Movies, TV, Music) (Maps)

• Addresses of the celebrities (alphabetical) (List)


8) 100 NYC LITERARY LANDMARKS (Maps)

• The 100 Most Notable NYC Novels (List)
• The 25 Most Notable NYC Children's and Juvenile Books (List)
• List of 50 New, Used, and Specialty Bookstores (List)


9) COMIC BOOK & MOVIE SUPERHEROES LOCATIONS (Maps)

• Comic Book Stores (List)


10) 200 ICONIC NYC BUILDINGS and PUBLIC SCULPTURES (Maps)

• The 100 Most Iconic NYC Buildings (List)
• The 100 Most Iconic NYC Sculptures (List)


11) 100 ICONIC NYC PAINTINGS and PHOTOGRAPHS (Maps)

• Over 75 Images of the paintings and photographs on the maps (Webpage)
• Where Famous Artists and Photographers Lived (List)


12) NYC SPORTS: HISTORIC CELEBRITY RESIDENCES and HANGOUTS
- plus LEGENDARY SPORTS STADIUMS(Maps)

• Also includes the following: (click for the sections below)
• NYC's Professional Sports Teams
• 50 Places to Play Sports in NYC
• 25 Great Pop Cultural Moments in NYC Sports History


13) NYC HISTORY in POP CULTURE (Maps)

• Includes: Mob locations; Death Scenes, Inventions,
U.S. Presidents; Hotels: Ethnic, Women's, and Gay History Spots -
with Neighborhoods (i.e. Soho) and Historical Trade Districts (i.e. the Flower District.)


14) NYC TOURIST ATTRACTIONS and MUSEUMS (Lists)

• The Top Pop Culture Attractions by Neighborhood (List)
• Top Pop Tourist Attractions (List)
• The Top 5 Most Visited Museums and also 30 Specialty Museums - by Subject (List)
• Cool Places for Kids, Mostly Free (List)
• List of Free Museums (via NYCgo (List)


15) UNIQUE and OFFBEAT NYC (Maps)

• Unique & Offbeat NYC (Lists)
• Unique & Offbeat Stores (List)
• Unique & Offbeat Restaurants and Bars (List)
• Offbeat Annual Events (List)


---
16) ENDNOTES AND REFERENCES

• List of Sources (List)

---
---
ABOUT THE WEBSITE AND BOOK

No doubt about it, New York City is the pop culture capital of the world. And for good reason. Movies, TV shows, iconic photographs, works of literature, landmark buildings, amazing sculptures, and historic cultural events: they all happen here.

While other NYC guidebooks can get you to Central Park, they won't tell you where in the park to find the exact spots where over a hundred of your favorite movies were filmed or dozens of famous album covers were shot. That's why every pop-culture-loving explorer needs a copy of this one-of-a-kind treasure map to all the famous places you've heard or read about over the years.

Ready to explore? The website and book features a multitude of maps and addresses to thousands of locations where some of the greatest moments in pop culture took place, The Pop Culture Lover's Guide to New York City (and the book "Pop Culture New York City: The Ultimate Location Finder ") will lead you to:

• The locations of classic films like Breakfast at Tiffany's and The Godfather, and popular TV shows such as Friends and Gossip Girl *


• Buildings where hundreds of celebrities live, including Celebrity Row along Central Park West *

• The epicenters of cultural revolutions like the Studio 54 nightclub and the Stonewall Inn

• Hundreds of iconic buildings and sculptures you can see for free * And so much more!

So whether you like movies, TV, theater, music, sports, comics, video games, or literature this book will take you on an exhilarating, not-to-be-forgotten adventure!

---
ABOUT BOB EGAN


Bob Egan is the founder of PopSpotsNYC.com, a popular website detailing the successful searches for the long-lost locations of hundreds of rock and roll album cover and movie scene locations.

Having been referred to as the "Sherlock Holmes of Pop Culture," Mr. Egan and PopSpots have been profiled in magazines and online articles throughout the world. He has been the host of several Sony Records promotional videos for Bob Dylan and Billy Joel box-set collections

Mr. Egan is an author, editor, and researcher. His newest book is a guide to over 2,000 pop culture locations in New York City, to be releasd later this year. He also gives lectures and tours on New York City Pop Culture.

---
Bob and PopSpots in the New York Post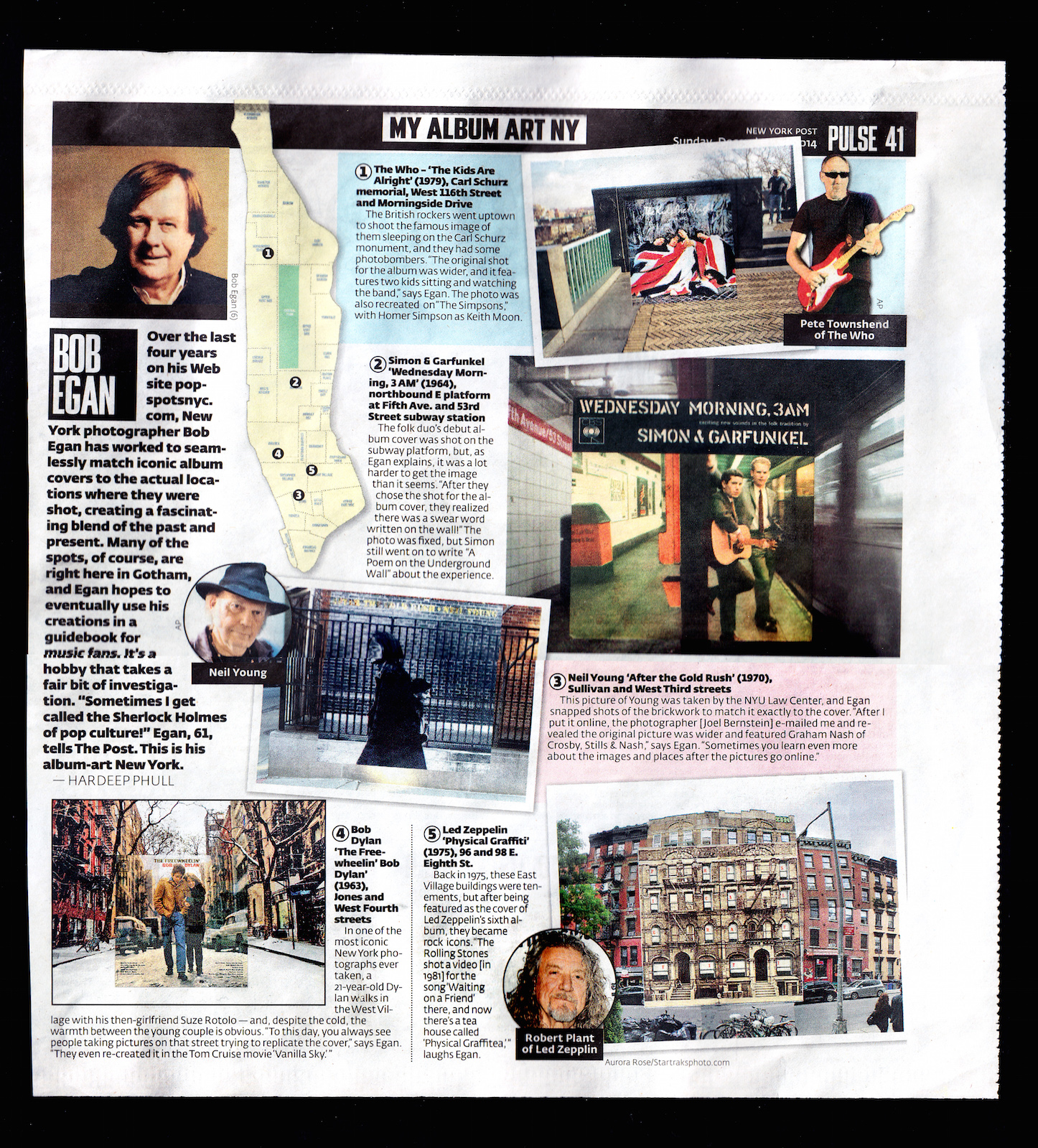 To read more interviews or see videos about Bob and PopSpots, click here
---

For questions, comments, suggestions, corrections or just to say "hi," you can email me (Bob) at: here.
---

Click the following link visit to the main PopSpots website: (PopSpotsNyc.com)
---

Click the following link to get to the main PopSpots Facebook page: Facebook.com/PopSpotsNYC
---

To be notified of new PopSpots entries, you can follow PopSpotsNYC on Twitter:
---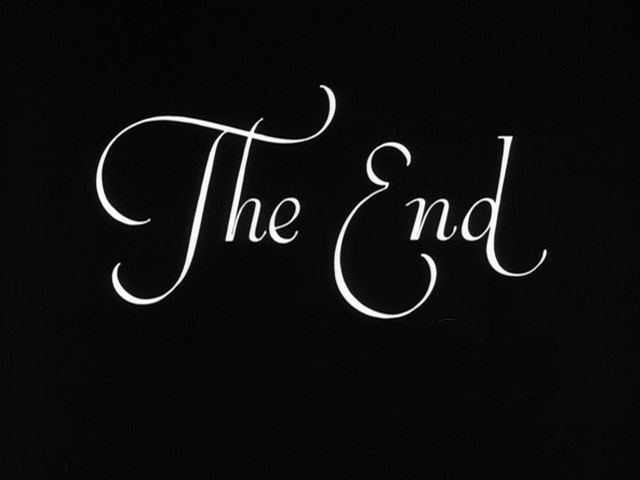 ---